Menu Bar: The Menu Bar provides access to several TerraView features.
Tool Bar: TerraView is initially composed of a set of shortcuts to access the main features.
Layer Explorer

:

The layer explorer is a tree used to represent all layers added to the current project.
Map Display

: The map display is the drawing area used by TerraView to render layers checked on the Layer Explorer.
Status Bar: The status bar is used to display auxiliary information, such as the mouse coordinates on the map display, map display SRID and a progress bar that represents the progress of drawing operations running.
Other elements can be docked in the application such as:
Data Table: It shows a table with the attributes associated with the selected layer and offers some functionalities over the table.
Style Explorer: It is a interface that allows you to change the style (color, symbol, etc) of the representation (line, polygon, point, raster) associated with the selected layer.
Task Progress: Displays a screen to view the running tasks. This screen allows the cancellation of individual tasks. Accessible by the status bar, using the button (...).

Below you can see an overview of all these elements. Remember that some icons and functionalities can be changed in future version.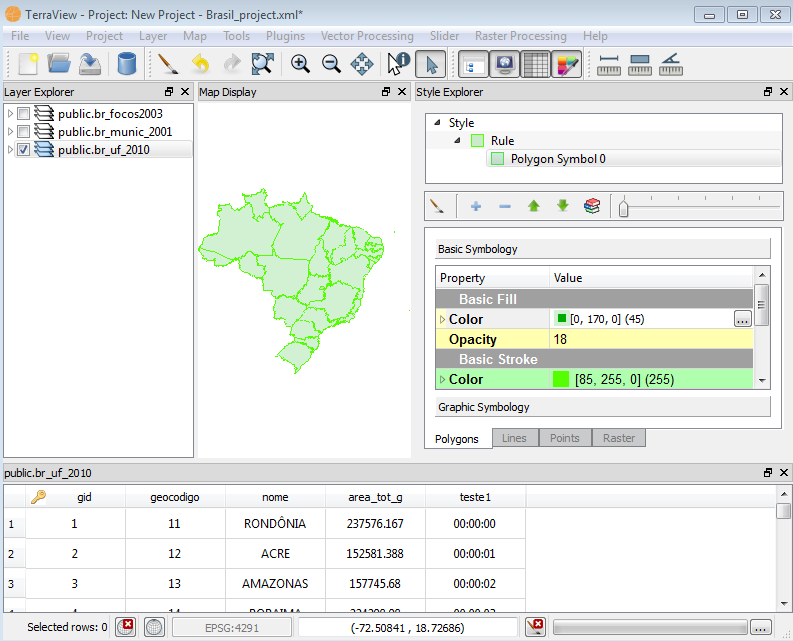 Once you launch
TerraView
, it starts with an empty project. It can be saved whenever required with a meaninful name. Use
Project
menu to change its descriptive properties like title and author. Once the project is saved a *.tview file is generated and all datasets added to the project will be referenced there.