Pie/Bar Chart
This interface allows the user to generate a pie or a bar chart over some attributes. A
data analysis that can be done with these charts is the comparison between two or more compatible attributes.


For example, using data from some districts, it is possible to make a comparison of the income distribution using the attributes that indicate the salary ranges based on the minimum
salary
. The salaries ranges varies from 2-5, 5-10,10-15,15-20, >20 as showed below.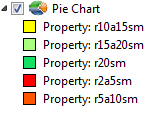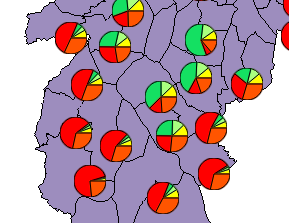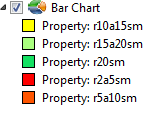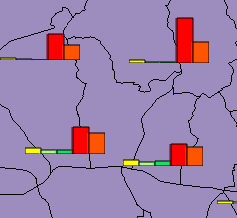 It is accessible through:

Layer Explorer > Right Click over a Layer-name > Pie/Bar Chart...

Define the visual parameters of the chart
Type: choose the chart type (bar or pie).
Size: choose the pie/bar size to be drawn on the map.
Contour Color: Sets the contour line color of the chart
Contour Width: Sets the

contour line

width of the chart.

A summary function can be chosen if the chart is being generated based on a linked dataset, otherwise this function is not visible

Define the properties used to generate the chart.
Press OK to generate the chart or Cancel to close the dialog.